ImpactVideo is an app to create and share selfies or product videos. Anyone can use it.
You can customize your selfie or video by adding a personalized message and link it to your website, shopping cart, or to any URL and share it by email, text, or post it to any social media platform.
Your receiver can view it on their device without any app – correct, they don't need an app to see your video.
Create Selfies or Videos with Sound.
Add a personal-touch message to your video.
Add a personal message and logo to your video.
See how many times your video has been viewed.
Share your video with anyone using your favorite app.
Make as many videos or selfies as you want.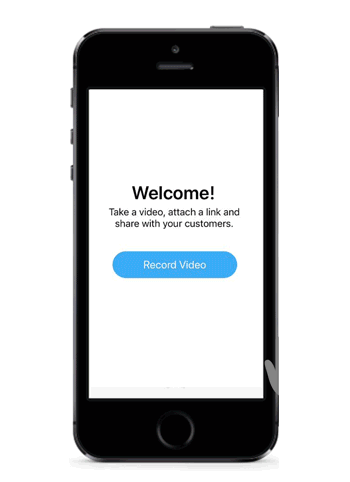 1. Create
Create a product video or selfie.
2. Personalize
Add a personal message and link it to your website or any URL.
3. Share
Preview and share it by email, text or post it to any social media.
Your Audience
Your receiver can view your video or seflie on any device without an app. When they tap the link, they will be taken to your link.
$100 / yr.

FREE
---
Easy to figure out.
Create unlimited videos.
Add a personal message.
Link any url to your video.
Preview before sharing.
In-depth video analytics.
Unlimited views and downloads.
Videos don't use your device storage.
and more…
FREQUENTLY ASKED QUESTIONS
What is ImpactVideo?
ImpactVideo is the easiest app to create a video or selfie, attach a personal message, link it to any web page and share it with anyone.
Why do I want a ImpactVideo app?
You can use ImpactVideo for anything –
Send a thank-you selfie to your favorite customer.
Show someone how to solve a problem.
Send a good-night message to your kids when you are away.
Make an awesome selfie and post it to your dating app profile.
Create a video showing how to do anything.
How much work is involved?
It's super easy. Create a 30-second selfie, add a message and link and share it in under 60 seconds. Your receiver can view your video on any device without any app. They can even see it on their desktop or smart-tv. You can create the video or selfie using the Android or iOS app.  
How different is ImpactVideo from other video or selfie apps?
Here are some key differences –
The app is very easy to use.
You can create unlimited videos and share it.
Each video is limited to 2 minutes.
Highly optimized videos to save space.
Video recorder has a built in timer.
Best of all: Your receiver don't need an app. They can view on any device.
Above all: It's FREE.
How much does it cost?
ImpactVideo is free. There is no cost.
Can I add my company logo to the video?
Sure, we work with several companies to create custom brands. Contact us using the form below.

Apple and Android Supported.
Videos and Selfies made with ImpactVideo can be viewed by anyone you share it with from any device without any app. The videos are removed from your device so it won't take any space. It's a new evolution in the selfie and video sharing.
Can I have my viewers share my video with others?
Yes, they can tap the share icon next to the video and share your videos with their contacts and make it go viral.
Best customer support for a free product, definitely worth it 🙂
This is just unbelievably super easy to use!
Easiest and affordable video platform I have come across.
– Very affordable. Free!
– Customer service is great!
Appnotch builds cutting-edge apps that are not only easy to use and makes it very affordable. Keep up the good work guys!
"ImpactVideo is a product powered by AppNotch"
© Copyright 2017 AppNotch, Inc.